Pop Up Yarn Project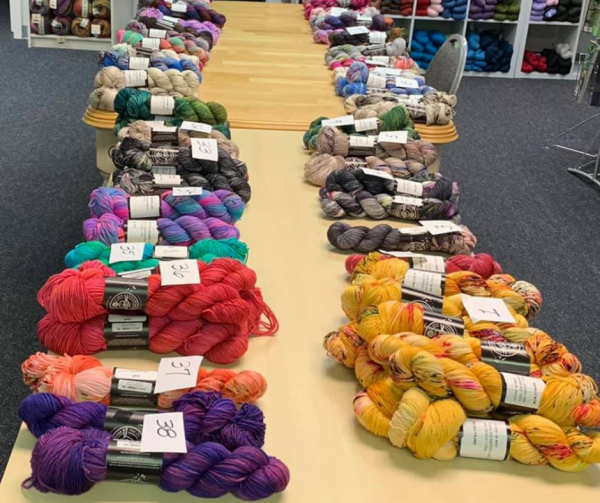 Every once in a while we have a surprise Pop Up Project Kit that is only available for a limited amount of time. We are talking 24 hours and it's gone. POOF!

Our next Pop Up Project Kit will be:
December 3rd (tomorrow morning) at 9:30 am. EST
Don't miss out!



Tis The Season For Giving Back


When COVID hit, I knew we had to change the way we did business at A Piece of Ewe. Many of you were there for our first Facebook Live event when we had no idea what a shutdown would mean. We scrambled and you were patient. Thank YOU!
You were so supportive of A Piece of Ewe, then and now, and I felt we had to pay it forward. So for every sale, in the store, online, or from a Facebook Live event, we donate towards an organization in need within our local community.
We have fed many first responders both at the hospitals and rehabilitation centers. We have fed more than 200 flood victims. A Piece of Ewe is located very near the town hit by the famous "100-year flood" and I used to live there for a time when I first moved to this area of Michigan.
"Tech Support Marcy" is also a first-grade teacher in Bay City and your purchases made it possible for us to not only provide each student in her class a Scholastic book each month but supply them with school supplies. I always loved getting a new Scholastic book each month as a kid and thought that this help was a no brainer.
A portion of each sale in September gave us the money to partner with the Good Samaritan Rescue Mission and that donation provided a meal for 158 people. We hope to partner with them again in January to assist with their Hope & Care totes filled with new hygiene products for those in need.
From our October and November sales, we are donating to Toys for Tots. I had a few Christmas holidays in my life where resources were scarce so it felt right to provide a toy or two for a child who might go without. We are taking donations (monetary and new unwrapped gifts) until 1 pm on Thursday, December 3rd here.
YOU made this happen! By supporting A Piece of Ewe through gift card purchases, Facebook Live events, online orders and stopping in the store to shop. Every purchase you made helps those around us. Thank you again from the bottom of my heart. You have kept us going through these unprecedented times. A Piece of Ewe hopes to continue being your "Local Yarn Store" no matter where you live and we hope to continue to help those in need.