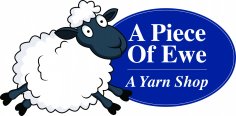 I75 Yarn Crawl
Don't forget about us! A Piece of Ewe is the Northernmost stop on the 2020 Yarn Crawl. Our hours will be Monday - Saturday from 10 am - 2 pm during the crawl. We will be closed on Sunday.
We will also have 20% OFF regular priced merchandise for our crawlers. (aproject kits and clearance excluded)
A little side note: At this time we would prefer payment by credit card or debit card whenever possible.

Grab some pals and make a fun summer road trip. A Piece of Ewe will be happy to be your first and last stop! Plus we can't wait to hear your fun road trip stories!


Save The Date For The Next AProject Kit Facebook Lives
Our next couple of Facebook Lives will be in August so make sure you save the dates. There is always a kit you didn't know you needed that you have to have. As always you can find any remaining
kits right here:
https://bit.ly/2Kw6nJ6
A Pattern For You!!!
Have you been knitting up a million shawls during the pandemic? Have you been making enough socks for the women in the shoe? If you answered yes to either or both of these questions, I bet you have a bunch of little balls of leftover sock yarn! I know I do! Well, A Piece of Ewe is here to help you with that! If you are inclined to make blankets, we like the free pattern on Ravelry.com "Make a Long Story Short". This pattern is fabulous for all those little and bigger balls of leftovers.


We Have Re-Opened Our Doors
With Limited Hours

Next week we will be open Monday-Thursday 10 am-1 pm. During the yarn crawl (July 31st - August 8th), we have extended our hours for you to 10 am-2 pm (best to arrive 30 minutes prior to closing to give yourself time to browse and pick out the perfect project). If you are close, give the store a call at (989)-892-6400 and Susan might be able to wait for you since we know traffic on the highways can be a bugger sometimes.


All guests must wear a mask and use hand sanitizer upon entering the building.

To support all of our customers, we will still be doing online orders and curbside pickup at this time for all interested parties.
Thank you for your patience!