Skip Navigation
Website Accessibility
Keeping In Touch With Facebook Live, Memorial Day Hours, Candles Lighting Our Way & Bay City Strong Update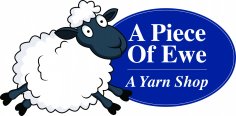 There's Always Fun At A Piece Of Ewe

Spending Time Together
With Our Facebook Live Events

Hi, Susan here! I know everyone has had a hard time being cooped up at home. I'm lucky I get to chat with 40 or so of you every week after our Facebook Live events on Sundays (at 1 p.m. EST, by the way). I really enjoy putting the kits together each week and seeing the reactions and who buys what. I'm always so surprised when they sell out!

You have let me stretch my creativity and come up with fun ideas. We never really sold kits before we had to temporarily shut our doors so this has been new to me. I'm so glad you like the beautiful yarns and projects as much as I do! Many of you have asked if we can continue these Facebook Live events and I am here to say, YES!

You are now part of a 28-state group of wonderful knitters and crocheters who have helped me weather the isolation of a stay at home order and I feel like I know you a little bit more each time we talk. I have a Facebook Live event scheduled for this Sunday, May 17th as usual at 1 p.m. EST. And if I can get "tech support" Marcy and Marilyn to help me midweek, we will have one for anyone interested in sock yarn on Wednesday, May 20th at 11:30 a.m. EST (to celebrate yet another missed hair appointment!).


Memorial Day Weekend Store Hours
I will be out of the store Friday, May 22nd - Monday, May 25th to recharge my knitting needles. But don't worry, I will be putting together some fantastic projects for you after the holiday! Make sure you follow us on Facebook for upcoming Live events and it is always good to watch the teaser I do 1-2 days prior for a sneak peak!


We are participating in a joint fundraiser with Coyer Candles Co. based in Midland, MI. For every $20 candle you buy with A Piece of Ewe logo, we get $8!

I bought several of the vanilla (they also have lime) and it is really vanilla. The 9 oz smokey glass jars are filled with dye-free soy wax and burn for about 50 hours! The scents are all phthalate-free - which is a fancy way of saying no harsh chemicals. They are a perfect size for a small gift or to use yourself.


B
ay City Strong Campaign Update

I want to thank everyone for supporting A Piece of Ewe in the
Bay City Strong
campaign. With the money you helped us raise, I am working with Shirts, Mugs & More to design some items - you never know, they might end up on a Facebook Live event coming soon!
Feeding Our Local First Responders
I

am continuing to donate for each purchase made online or on the phone until we get to open our doors to help feed our first responders. So far you have helped us feed 138 people!
Thank you all and we can't wait to see you this Sunday at 1 p.m. EST. Don't be late since we start right away! (I'm terrible at keeping a secret too). See you soon and thank you for your support. I can't do it without you! ~ Susan