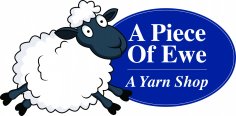 Spring Staycation Retreat & Classes Galore!
Register Today For Our Spring Staycation Retreat
March 28th & 29th

A Piece of Ewe is excited to welcome Cori Eichelberger from irocknits.com to Bay City in March for two dynamic and inspirational workshops!

Price: $45 (includes lunch & $10 gift certificate toward purchases that day)



Never knit a sweater? Knit a few sweaters but none of them fit quite right? A chance to look at construction styles of 50 sweaters; along with yarn choices, will allow students in the class to really visually "see" what they may like or dislike about a sweater they plan to knit. How to fix a gaping neckline? What about if a sweater is too long? What if the sleeves are too short? Can a hand-knit sweater actually make you look thinner?

In this 3-hour workshop, Cori will give you ideas for things you've never heard of doing to get a sweater to fit you superbly. She'll show you why some sweaters look great on everyone and will talk about why some sweaters will never fit anyone well, even though we love the look of them. These tips and more all in one place at one time and you can try them all on!


50 SHADES OF SHAWLS
When: Sunday, March 29th 11 AM - 3 PM
Price: $45 (includes lunch & $10 gift certificate toward purchases that day)

Don't knit shawls because you don't think you'd ever wear one? Knit a few shawls but don't wear them? Maybe it's all in the styling or the construction of the shawl you've chosen. Here's a one time, one afternoon, chance to take a look at the world of knitted shawls - from different constructions to yarn choices, color choices as well as styling options.

And let's also include that worrisome garment that some call a poncho. And perhaps that generous stole or scarf that might be languishing on the needles, let's get it knit in a way that you'll love with just a few ingenious ideas that might turn you into a shawl fashionista. Anything you wear around your neck will be modeled and discussed with tips and tricks to make your shawl knitting a must-have! This is a 3-hour workshop.
SIGN UP TODAY - Registration Closes Wednesday, March 26th
Stop in and sign-up at the store, register online here for 50 Shades of Sweaters and 50 Shades of Shawls, or call us directly at (989) 892-6400 to register! Uptown Grill will be catering lunch each day and the Sweet Shoppe at City Market will provide the snack bags. Each attendee will receive a $10 gift certificate to use that day and enjoy 15% off all regular priced merchandise purchased the day of your workshop. Registration closes once full or by Wednesday, March 26th to allow for final food counts. Only 30 spots are available so space is limited - once it's full, it's full so don't wait to reserve your spot!
New Beginner Knitting Class
February 11th, 2020 6 11, 2020 6 PM


Want to learn to knit? Know how to do the knit stitch but don't know how to purl? Class will teach you: knit, purl, basketweave, seed stitch, and ribbing. You will learn to cast on/off, what "stitch to gauge" means and how to read a written pattern. You will love wearing this fun scarf!

Cost: $ 45.00
Thursday Grab Bag Class
February 13th, 20th, 27th & March 5th 2020 1 PM


Here's your chance to learn flat brioche (lemon difficult), entrelac (interwoven with love blanket), fair isle (over the river/through the woods) in this grab bag class. This class is a drop-in class but we need you to sign up prior to class. More details for each project can be found within the individual evening class descriptions.
Cost: $ 10.00
February 21st, 2020 10:30 AM


Learn to crochet a granny square. Basic crochet skills are helpful but not necessary. Pattern included. Yarn additional.
Cost: $ 15.00


Pick Your Blanket