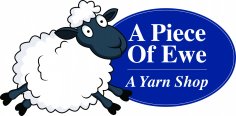 We've Got New Classes For You!
With new classes starting in October, we wanted to personally invite you to sign up for our upcoming classes!

Knit A Sweater With Joyce ($45)

This class is working on the Knitting Pure & Simple Pullover Sweater 265. The pattern and materials are separate.
This class has a start date of 10/1 at 10 AM.
Beginner Knitting ($85)

Want to learn to knit? Know how to do the knit stitch but don't know how to purl? This class will teach you how to knit, purl, basketweave, seed stitch, yarn over's, and a basic cable. You will learn to cast on/off, what "stitch to gauge" means, and how to read a written pattern as well as a chart. By the end of the class, you will even learn basic finishing. This is a 6-week class.

This class has a start date of 10/1 at 6 PM.





Pick Your Blanket ($10)
Interested in knitting a blanket? Joyce loves making blankets and has several for you to choose in a variety of yarns and weights. Mitered squares, intarsia, log cabin and more. This class meets once a month, choose day or evening or both!
This class has start dates of 10/4 at 10 AM or 10/7 at 6 PM.

Steek This Coffee Cozy ($35)
Steeking is a technique used to safely and securely cut your knitting to create holes where you want them. It is frequently used with complex colorwork sweaters because it is easier and faster to knit colorwork in the round. It can be scary to steek a big sweater, so I created this scaled-down steeking project to help knitters try out the technique fearlessly. Think of this project as a mini-sweater vest for your coffee cup.
This class has a start date of 10/9 at 6 PM.

Boyne Mountain Retreat Recap
We had such a good time at our Boyne Mountain Knitting Retreat last weekend! We appreciate those of you who joined us, and those who couldn't, keep an eye out for our next retreat! Check out our awesome photos here.
Our Reusable Bags
By the end of the year, we will no longer use disposable single-use plastic bags in our shop.
We are selling great re-usable bags with fun sayings. Each time you use our bags, we will donate to charity, through the end of the year. Purchase a bag and get in the habit of using these great, durable & environmentally friendly bags all over town!
Buy a bag in-store or online here.