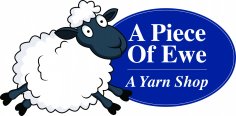 Come Shop With Us!
Black Friday
(November 23, 10 AM - 5:30 PM)
Get out of the Black Friday madness and come shop with us at A Piece Of Ewe!

Get 25% off regularly-priced merchandise in-store AND online!!! Don't want to shop? Come chat and knit! You can get away from the crowds and come to relax at our quiet little shop. Want to shop but can't make it to the store? No problem!

Use the coupon code Black Friday to get 25% off in-stock regularly priced merchandise online!



Small Business Saturday

(November 24, 10 AM - 3 PM)
Shop at your favorite local yarn store on Small Business Saturday!

We appreciate our customers more than you could imagine. As a small business, we depend on you. You can keep us thriving year after year. You are what makes A Piece Of Ewe the best local yarn store around!

Come shop with us on Saturday, November 24th and the first 10 people to make a purchase will get a Shop Small bag with goodies from A Piece Of Ewe.



Cyber Monday
(November 26, 12 AM - 11 PM)
Shop Cyber Monday with us!

On Monday, November 26th only, get FREE SHIPPING, no coupon code needed!

Spend the day staying in and shopping online with your favorite shops, including A Piece Of Ewe!
Last Chance For Diaper Bank Donations!

Sadly, our Donation Drive for the Bay-Arenac Diaper Bank is coming to a close.

We truly appreciate all the diapers, wipes, and cash donations you've made, and we want to invite you to make any last minute donations of this kind to the Baby Room by Monday, November 26th. And don't forget, you get a discount up to 25% off when you donate a pack of diapers, wipes, or a $15 donation!

Thank you for all your support to Bay-Arenac Diaper Bank this season!