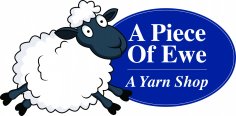 Join Us For Christmas In July!
Day 11: Shawl Pins!
On the eleventh day of Christmas, A Piece Of Ewe gave to me... another gorgeous shawl pin for $25! What better way to dazzle up your favorite shawl or sweater than with a cute pin? Just like our previous Lamb Kabob shawl pin, this one fits into any material you've made your shawl with. We have various styles, so first come, first serve!

Watch Video Here

This deal is for July 27th only, so stop by before they're gone!