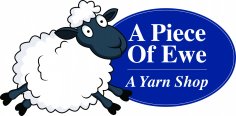 Join Us For Christmas In July!
Day 9: Yarn Bowls!
On the ninth day of Christmas, A Piece Of Ewe gave to me... yarn bowls for $36! We have a couple different colors and designs, so come in first to get your pick! These yarn bowls are perfect for keeping your skein together while only giving you the amount of yarn you need. With the sassy designs on the side, you'll be glad you snatched one up before they're gone!

Watch Video Here

This deal is for July 25th only, so stop in while supplies last!