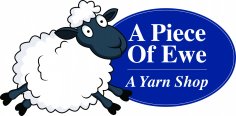 Join Us For Christmas In July!
Day 7: 20% Off All Sock Yarns!
On the seventh day of Christmas, A Piece Of Ewe gave to me... 20% off all sock yarns! This is the perfect time to stock up on sock yarns. Even if you don't want to start on a pair of socks at the moment, don't forget you can use sock yarn for much more than just socks! We've made shawls and scarves, and we'd be more than happy to help you begin on one of these projects. Come see us today!

Watch Video Here

This deal is for July 23rd only, and while supplies last!